Cross Slot used for No-Tillage Research in Germany
The following article recently appeared in a newsletter from HALDRUP.
Plot direct seeding Cross slot seeding elements
This spring we delivered our first no till plot drill machine using the Cross Slot elements.

The seeder includes all possible technologies as well as an independent hydraulic. It has a pneumatic distribution of the grains and fertilizer, 11 rows on belt cone distribution, 4 of the rows are on precision drill, liquid fertilizer, granulate fertilizer, spread slug pellets, bi-cropping unit...

The Cross Slot is delivering the fertilizers (liquid and granulate) on the right side and the grains on the left side.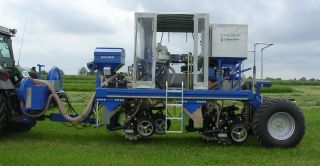 The machine was sold to the technical university in Dresden, Germany. For information concerningthe possible use of the seeder please contact Professor Dr. agr. Schmidtke via email: schmidtk@pillnitz.htw-dresden.de
For more information please contact Haldrup
Germany France Denmark
Inotec Engineering GmbH Inotec France SARL J. Haldrup a/s
Justus-von-Liebig-Str. 3 14 rue des peupliers Bredgade 129
D-74532 Ilshofen F-72190 Sarg©-les Le Mans DK-9670 L¸gst¸r
Tel: +49-7904-943 998 0 Tel: +33- 6 15 63 66 98 Tel: +45-9666-1166
Fax: +49-7904-943 998 40 Fax: +33-2 34 08 71 50 Fax: +45-9666-1167
Email: info@haldrup.net Email: info@haldrup.net Email: info@haldrup.net
Comments are turned off for this item