Kiwi machine impresses Aussies
With national pride running high on both sides of the Tasman during the Rugby World Cup, New Zealand based company Baker No-Tillage Limited was pleased to have their demonstration Cross Slot drill awarded 'Machine of the Year' at the Henty Machinery Field Days in southern NSW. Company CEO and founder, John Baker, together with local Cross Slot Product Specialist, David Cook, attended the three-day show.
No-tillage is now by far the most common form of crop establishment in Australia. The technique was introduced on the back of simple narrow-tyne openers but as the moisture conservation and soil structure benefits accrued over time, the corresponding yield increases introduced a new set of challenges for seeding equipment. Taking the tynes to wider row-spacings was a temporary solution but in recent years the emphasis has shifted to disc openers. 'This has provided a great platform for Cross Slot to launch into the Australian market' says John Baker. 'Australian farmers have a good understanding of no-tillage and know what they require from their equipment for consistently successful and reliable crop establishment.'
The company has placed a number of new models into the Australian market in 2011 including 5.5m and 9m drills and 12m and 18m toolbars. They have also appointed another Product Specialist based in South Australia.
John Baker will also be attending a three-day field day in South Australia where the company will be exhibiting a 9m drill that has been sold to a farmer near Port Lincoln.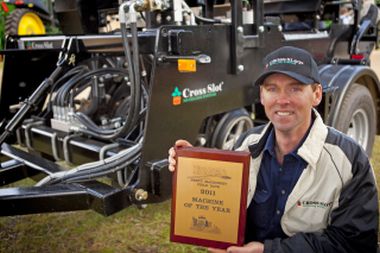 Victoria based Cross Slot Product Specialist, David Cook, holds the Machine of the Year trophy at the Henty Machinery Field Days. In the background is the latest (and smallest!) Cross Slot machine to travel across the Tasman, a 5-row demonstration drill.
Comments are turned off for this item