Product Index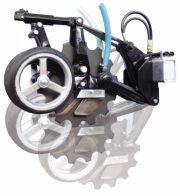 The Cross Slot® no-tillage opener
Arose from 30 years of university research in New Zealand and the USA.
Involved more than 50 scientists, engineers and graduate students.
Spanned 40 years.
Involved over 100,000 hectares field proving.
Resulted from some of the world's truly unique scientific discoveries in this field.
Is patented internationally.
Performs functions no other no-tillage technology has been able to emulate.

Cross Slot® drills
Corn planters (under development)