Cross Slot in action in Poland and New Zealand
Special thanks and congratulations go to the Agro Dekorex team in Poland for their very professional video posted recently on YouTube and now available on the Cross Slot website video library in the "Cross Slot @ Work" folder.  This is a very well produced video sequence showing the full cycle of their production system. Take a look at http://www.youtube.com/watch?feature=player_embedded&v=lH031flwPyA
Congratulations also to Michael and Karen Williams on their recent success as Supreme Champions of the Wairarapa regional section of the New Zealand Ballance Farm Environment Awards.  Michael and Karen join a growing list of Cross Slot owners that have received acknowledgement at local and national level for their sustainable farming practices.
Senior government minister opens new headquarters for Cross Slot
Baker No-Tillage Limited, the home of Cross Slot, has re-established in new premises on Kawakawa Road, Feilding,New Zealand.  The complex was officially opened on October 11 by Hon. Steven Joyce, Minister for Science and Innovation and Economic Development.  Guests at the function included local Member of Parliament and long-time Cross Slot user, Ian McKelvie, Manwatu District Council Mayor, Margaret Kouvelis, Palmerston North Mayor, Jono Naylor and Horizons Regional Council Chairman, Bruce Gordon together with staff, shareholders, Cross Slot owners and users and local suppliers and service providers.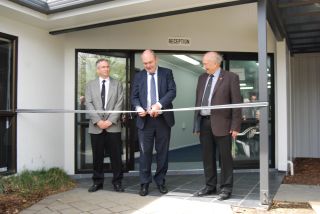 General Manager, Bill Ritchie (left) and Board Chairman and CEO, Dr John Baker (right) look on as Hon Steven Joyce officially opens the complex.
Dr Baker, when welcoming the guests, commented on the appropriateness of the portfolios held by minister Steven Joyce.  He said that Cross Slot embodied considerable science and innovation and he hoped that its future would lead to economic development for both the company and the country.
In his opening address, the minister spoke of the importance of New Zealand-developed agricultural technologies to export markets.  "We are not going to feed the world from this country" said Mr Joyce "but part of what we really have to offer the world is our brains and our revolutionary technology".  He congratulated the company on its achievements to date and wished it well for the future.
Follow this link to see the official opening on video.
Delegates from 8 countries attend 17th annual Cross Slot Conference
Around 50 delegates from 8 countries have just returned from attending the 2012 Cross Slot Conference and Field Tour.  This year's conference was held in eastern Germany and northern France.  Activities included visiting international seed company DSV, near Buckwitz, attendance at the DLG Field Days, near Sattelhof where the group was hosted by sponsors Bayer CropScience and de Sangosse, and visiting a number of farms and research organisiations in Germany and France using Cross Slot drills for their no-tillage programmes.  Guest speakers during the 9-day event included Dr Theodor Friedrich from the FAO Plant Production and Protection Division (AGP) based in Rome; Dr Wolfgang Sturny, from the European Conservation Agriculture Federation (ECAF) from Switzerland; Dr Jill Clapperton, soil microbiologist from Montana; Fredrick Thomas, Editor of TCS magazine in France and Dr John Baker, CEO of Baker No-Tillage Limited and 2012/13 nominee for the World Food Prize.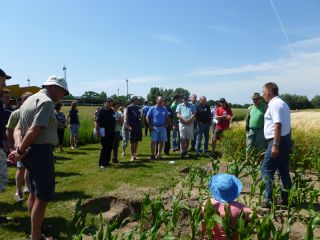 DSV Manager, Christoph Felgentreu talks to members of the group.  Dr Jill Clapperton (with hat) demonstrates soil features from one of her favoured soil pits.
It was not all work on the programme.  The tour included cultural visits to places such as Weimar, Waldenburg and Dresden in Germany and Paris and Giverny in France with cruises on the Elbe and Seine rivers.  A highlight for the ladies on the tour was a visit to the home and garden of French painter Claude Monet in Giverny.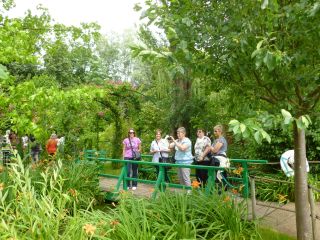 Some of the ladies enjoy the stunning ambiance of Claude Monet's garden in Giverny,France
Cross Slot owners receive complimentry attendance for their first year and many have gone on to attend 10 or more of the annual events.  Randy Emtman, Cross Slot owner since 2005, talked in his presentation to the group together with students and staff from HTW technical University in Pillnitz, near Dresden, of the benefits he had gained from the conference tour in New Zealand in 2011.  He outlined cover crop options and grass weed control strategies that he had seen in New Zealand and had subsequently applied on the family farm at Valleyford in Washington State, USA.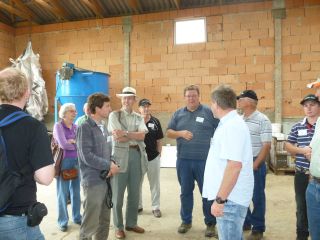 Cross Slot owner, Ulrich Zink, hosted the group at his farm in Seidewitz, Germany.  Just in this photo are delegates from Italy, France, Germany, USA and New Zealand including Dr Theodor Friedrich (centre with hat) from FAO in Rome.
Conference Coordinator and Baker No-Tillage General Manager, Bill Ritchie, said the annual Cross Slot Conference and Tour creates a unique opportunity for owners to share information and experiences.  The conference by-line "One Technology: Global Application" emphasises the point that despite the delegates attending from a wide range of farming conditions from around the world, all use the same technology with virtually no modifications.  "This means that the range of experiences and knowledge that this group shares at these events provides a huge advantage to each of the delegates in their daily farm management" he said.