Our key people: John Baker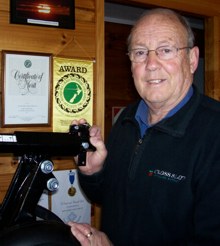 Dr C. John Baker, ONZM (PhD, MAgrSc, BAgrSc)
John Baker holds a PhD in agricultural engineering, a Masters degree in soil science and a Bachelors degree in agricultural science.
He initiated the project in 1967 and has led it ever since. He has published 80 international scientific papers on the science of no-tillage machinery and its interactions with soil, supervised some 26 graduate students on the topic, written countless popular press articles and made numerous televison and radio appearances.
He created the initial vision, led the science and has played a leading role in all CROSS SLOT® design and business matters, as well as co-authoring four books on the subject. An early opener design became known as the "Baker Boot".
He continues to be the key-note speaker at international no-tillage conferences and addressed the US Senate on the topic in 1989. He is an acknowledged international authority in this area, which was recognised by the Royal Society of New Zealand with the award of a Science and Technology Medal in 1997.
From 1989-91 he was President of a USA no-tillage company and was Director of the Massey University Agricultural Machinery Research Centre for 10 years before resigning to found Baker No-Tillage Ltd as Chairman and Chief Executive.
He is a Chartered Engineer and Fellow of the Institution of Agricultural Engineers (England) as well as a member of the NZ Institute of Agricultural Science, the American Society of Agricultural Engineering and the International Soil and Tillage Research Organisation.
The New Zealand Government recognised his achievements in the 2006 New Years Honours by making John an Officer of the New Zealand Order of Merit for "Services to agriculture".
At a glance
CEO, Chairman
Officer of the New Zealand Order of Merit
PhD, MAgrSc (Hons)
FIAgrE, Chtrd Engineer
Major shareholder
Founded project, 1967
Previous Prof Agr. Engineering (30 yrs)
Awarded NZ Science & Technology Medal
Addressed US Senate on the topic in 1989